Stylish Name Generator (Stylish and Cool Name Free)
𝓢𝓽𝔂𝓵𝓲𝓼𝓱 𝓝𝓪𝓶𝓮 𝓖𝓮𝓷𝓮𝓻𝓪𝓽𝓸𝓻 𝔀𝓲𝓽𝓱 𝓢𝓽𝔂𝓵𝓲𝓼𝓱 𝓢𝔂𝓶𝓫𝓸𝓵𝓼
So, you are looking for Stylish Name Generator tool to convert your normal text to stylish for games, social media and other profiles.
Stylish Name Generator Online Tool
Are you looking for a stylish name generator tool to convert your normal text in to fancy/stylish text? If yes, then you are at right place because this tool is all about converting your normal text to stylish text within few seconds as it is shown.
Whether you are a social media user or a gamer, this tool is going to create unlimited fancy names. This stylish text generator tool is one of the best tool on the internet that helps you to create beautiful and unique stylish fonts in just few clicks.
If you are social media personality and want stylish text generator tool to create stylish text for your Facebook profile, Instagram profile, Twitter profile and much more. It will create unlimited stylish names quickly and you can use it anywhere you want to use.
Good news for gamers as well because this tool is going to create unlimited fancy names for their gaming profiles. Whether you are a COD Player or PUBG gamer, you can create your unique and attractive username with a few clicks.
How Stylish Name Maker Tool Works?
You might have used this tool above and knew the working method of this tool but let us explain it's working below:
First of all, put your normal text in the above input box
Now, you will see unlimited stylish text below this box
Next to each text, you will see copy button
Just click on this button and copy the text
Now paste it anywhere you want to use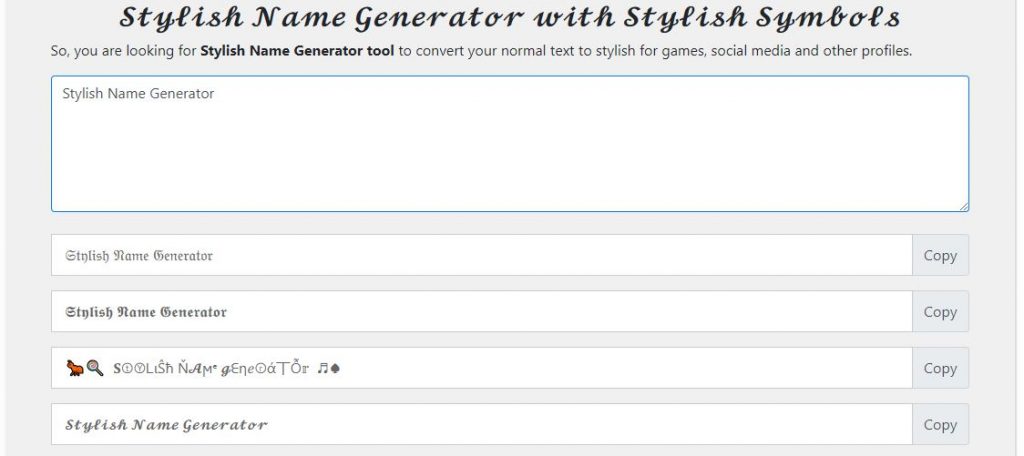 Some examples of Stylish Text Generator Tool
Although there are unlimited stylish fonts in the tool which you can use for free but below we mentioned only a few most useful stylish fonts.
𝔖𝔱𝔶𝔩𝔦𝔰𝔥 𝔑𝔞𝔪𝔢 𝔐𝔞𝔨𝔢𝔯 (ℭ𝔬𝔭𝔶 𝔞𝔫𝔡 𝔓𝔞𝔰𝔱𝔢)
𝕾𝖙𝖞𝖑𝖎𝖘𝖍 𝕹𝖆𝖒𝖊 𝕸𝖆𝖐𝖊𝖗 (𝕮𝖔𝖕𝖞 𝖆𝖓𝖉 𝕻𝖆𝖘𝖙𝖊)
🎅💝 𝔰𝐓Yˡ𝓘𝕊ђ ภⓐ𝕄Ⓔ м𝐀K𝐞R (𝔠𝕠𝓟Ƴ άN𝓭 Pᵃ𝕤Ŧ乇) 🍪🎁
𝓢𝓽𝔂𝓵𝓲𝓼𝓱 𝓝𝓪𝓶𝓮 𝓜𝓪𝓴𝓮𝓻 (𝓒𝓸𝓹𝔂 𝓪𝓷𝓭 𝓟𝓪𝓼𝓽𝓮)
𝒮𝓉𝓎𝓁𝒾𝓈𝒽 𝒩𝒶𝓂𝑒 𝑀𝒶𝓀𝑒𝓇 (𝒞𝑜𝓅𝓎 𝒶𝓃𝒹 𝒫𝒶𝓈𝓉𝑒)
Stylish Name Maker (Copy and Paste)
。 🎀 𝒮𝓉𝓎𝓁𝒾𝓈𝒽 𝒩𝒶𝓂𝑒 𝑀𝒶𝓀𝑒𝓇 (𝒞🍪𝓅𝓎 𝒶𝓃𝒹 𝒫𝒶𝓈𝓉𝑒) 🎀 。
FAQs About Stylish Name Generator
Can we use this tool for social media profiles?
Yes, you can use it for Facebook, Instagram, Twitter, Tumblr and any other social media profile you are running. So, go ahead and give it a try right now.
Is Stylish Name Creator tool helps in gaming profiles?
Definitely, this tool will help you to generate unique profile names for any of games you love to play. We highly recommend you to use this tool and share it with your gaming fellows.
What is the purpose of this tool?
The only purpose of this tool to make your profile unique either it is social media, gaming or any other with unlimited stylish fancy fonts.
Summary
So, that's all about our Stylish Name Generator tool and we are ending it here with the hope that you people not only understand about this but also going to use it. If you like our tool, then bookmark it for future use and share with your friends as well because we believe in sharing is caring. Also, if you have any recommendation about our tool then must let us know and we will try best to improve our tool in future.