Fancy Text Generator (𝓤𝓷𝓲𝓺𝓾𝓮 𝓪𝓷𝓭 𝓕𝓪𝓷𝓬𝔂 𝓣𝓮𝔁𝓽)
Best Fancy Text Generator
Convert your normal text to Fancy Text using our Fancy Text Generator Tool and make it unique. It is easy to use the tool and you can get Fancy Letters with a simple copy and paste. So, give it a try right now.
Fancy Text Generator Online Tool
You are probably looking for Fancy Text Generator to convert your normal text to Fancy text; that's why you landed on our website. You are in the right place because our tool will help you to make your Text Fancy and attractive according to your choice. All you need to do is simply copy the text which you want to make fancy, and you will get unlimited styles below the text box. From here, you can choose the type of text you want.
Our tool will not only give you Fancy Fonts, but it is a combo of Fancy Letter Generators and symbols that give you fancy symbols as well as fancy text. Now you can generate fancy text which you love with regular text, and all this is possible with the assistance of our Fancy Text Generator.
Whether you want to fancy text for your social media use or personal use, you are free to use our fancy text generator for any purpose you want. Using our tool is as easy as ABC, and even a new user can use it easily. This tool's primary goal is to help people generate excellent fancy text for social media use, unique invitations, Photoshop use, and so forth.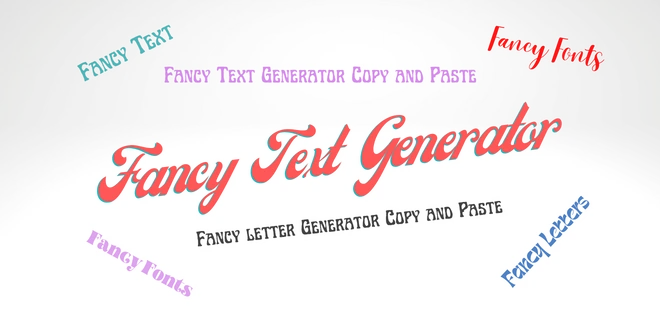 Other Similar Tools
Some Cool Fancy Text – Cool Fonts and Symbols 
An example of some fancy text by our tool is given below:
𝔣𝔞𝔫𝔠𝔶 𝔱𝔢𝔵𝔱 𝔤𝔢𝔫𝔢𝔯𝔞𝔱𝔬𝔯 𝔟𝔦𝔬 𝔣𝔬𝔯 𝔦𝔫𝔰𝔱𝔞𝔤𝔯𝔞𝔪
𝖋𝖆𝖓𝖈𝖞 𝖙𝖊𝖝𝖙 𝖌𝖊𝖓𝖊𝖗𝖆𝖙𝖔𝖗 𝖇𝖔𝖑𝖉
𝔣คŇ𝒸𝕐 ᵗⓔ𝔵ţ ق𝐄ภ𝕖𝓡Δ𝔱𝕆ŕ ℃ᵒ𝔬𝔩 𝓐ŇD şтⓨⓛ丨ˢĦ 
𝓯𝓪𝓷𝓬𝔂 𝓽𝓮𝔁𝓽 𝓰𝓮𝓷𝓮𝓻𝓪𝓽𝓸𝓻 𝓬𝓸𝓵𝓸𝓻
𝒻𝒶𝓃𝒸𝓎 𝓉𝑒𝓍𝓉 𝑔𝑒𝓃𝑒𝓇𝒶𝓉𝑜𝓇 𝒸𝑜𝓁𝑜𝓊𝓇𝒻𝓊𝓁
𝕗𝕒𝕟𝕔𝕪 𝕥𝕖𝕩𝕥 𝕘𝕖𝕟𝕖𝕣𝕒𝕥𝕠𝕣 𝕔𝕒𝕝𝕝𝕚𝕘𝕣𝕒𝕡𝕙𝕪
Ŧгєє Ŧคภςץ ՇєאՇ ﻮєภєгคՇ๏г Շ๏๏ɭ ๏ภɭเภє
ɮɛֆȶ ȶɛӼȶ ɢɛռɛʀǟȶօʀ ȶօօʟ օռʟɨռɛ
Easy fancy text generator tool online
These are a few examples that our tool can generate for you as per your choice. You need to follow the below-given steps for developing the text as you want.
Main Features of Our Tool
Following are the main features of our tool that you can utilize:
Generate unlimited cool and fancy texts
Use this generated text on any social media platform
Only three steps to getting excellent text
Works perfectly well on all devices
Works perfectly on all the browsers
And many other features
Fancy Text Generator Guide
 Just follow the three simple steps for generating text from our tool:
Copy and paste or write text on your own in the text input box
Select the fancy text you want to save
Press the Copy button next to each Fancy text and paste it where you want
That's for getting the text of your choice with the assistance of our tool. If you are still confused then check the below images.
English Fancy Text Generator
As we all know that English is one of the most used languages around the world and around 70% of people speak English. If you are of an English-speaking person and want English Fancy Text, then must use our tool. It will give you unlimited English Fancy Fonts with just a few clicks. Follow the above-given method to get your favorite Fancy English Letters. That's all about our English Fancy Text Generator tool.  So, give it a try right now and share your experience with us.
Bengali Fancy Text Generator
If you are a Bengali-speaking person and want to get your normal Bengali Text converted into Fancy Bengali Text, then use text and fonts, from the Bengali Fancy Text Generator Tool right now. It will convert your ordinary Bengali Text into Fancy Bengali Text for free within a few seconds. Because our tool is one performing tool and will make you happy after using it.
Chinese Fancy Text Generator
We are happy to let you know that now you can convert your normal Chinese Fonts to Fancy Chinese Fonts by following the above method. All you need to do is to write or paste your standard Fancy Text into the Chinese Fancy Text Generator tool and get your Fancy Text against it right now. 
Emoticons Fancy Text Generator
Another best thing about our tool is it not only provides you with Fancy Fonts or Fancy Letters, but you can also get unlimited Fancy Text With Emojis as well. Because this tool uses the Unicode system to generate different combinations of letters. So, in these combinations, you will get unlimited emojis as well as symbols. So, what are you waiting for? go ahead and give a try to the Emoticons Fancy Text Generator Tool a right now.
Decorated Fancy Text Generator
Most of the users around us want to use this tool for decorating their normal text. That's why our Decorated Fancy Text Generator tool is always useful for such users. Decorated Fancy Text Generator Tool will not only decorate your normal text but also it will give you unlimited combinations of symbols and fonts. Your simple text will be more attractive and decorated with the help of little work on our tool.
Fancy Text Generator for TikTok
As we all know that TikTok is now the biggest social media platform in the world and millions of people are using it on daily basis. If you are also a TikTok user and want to Generate Fancy Text for TikTok, then must use our given Fancy Text Generator for TikTok and you never regret it. Because this tool is ready to give you unlimited Fancy Fonts for TikTok. 
Fancy Text Generator for Bio
Whether you want Fancy Text for your social media use or for public posting, you can use this tool for all purposes. Because Fancy Text Generator for Bio will give you fancy fonts that can be used in the bio of Facebook, Instagram, Twitter, TikTok, and almost every social media platform. Besides, social media platforms, you can use these fonts on your website posting as well as on other platforms. So, if you have not tried it so far, then must try it right now and share your experience with us.
FAQs of Fancy Text Generator
Where can I use the generated text by your tool?
You can use this text for any of your required platforms like you can use it for your social media accounts, for gaming platforms, for Photoshop users, and wherever you want to use it, you can use it.
Is there any limit to using this tool?
No, there is no limit to generating fancy text by using our tool. You can convert as much text as you and copy it for your personal use.
What if I face any issues while using this tool?
You can contact us immediately if you face any issues while using it. We will try our best to solve your problem in no time.
How do you write text fancy on the phone?
You can use this tool on any device in a similar way. Just follow the above-mentioned procedure on whatever device you are using.
Is your Fancy Text Generator Paid or free?
Our tool is totally free to use. Don't worry about it and use it to generate the unlimited fancy text of your choice.
Is this Fancy Text Generator with Emoji work for emoji?
Yes, this tool will generate many fonts with emojis against your normal text. Along with emojis, you will also get Fancy Symbols as well. All you need to do is to copy your favorite Fancy Text with Emoji or with Symbol and paste it where you want to use it.